Self-Serve Bathing
Services Unavailable until early 2022.
(Silverdale only) - Appointments or Only - Bathing facilities close 1 hour prior to store closure.
We have three newly renovated self-serve bathing rooms in our grooming salon area where you will find the latest and most efficient equipment in a fully enclosed, private space. Our tubs have a walk-in capability so no heavy lifting is required. For those with small companions, our tubs are adjustable so that you can bring your little friend up to your level (and save those back muscles). Our "Traditional" bath is $20 per animal, and you can be assured that all of the shampoos available to you are made of only the finest natural ingredients. Just like the foods we offer, our shampoos are free of soaps, detergents, harsh chemicals and those scary sulfates.
45 minute time limit per session.
For those repeat bathers we encourage you to enter our Pawprints Reward Club. For every 7 paid self-serve baths, you get the 8th one absolutely free! And the Club comes with lots of other benefits. No receipts to save, no cards to punch... just keep 'em squeaky clean!
We supply everything you need… all you bring is a dirty friend!

- A private space (yet assistance is only a "Help!" away)
- A stainless steel, elevated, walk-up bathing tub
- All natural shampoos and conditioners
- Safe and effective force-air dryers
- Apron and towels
Attention: Our self-serve bathing facility is a pre-pay system. To shop with your furry companion, we ask that you check in when you arrive and we will hold your tub. We cannot allow wet or damp canines in the retail area due to safety reasons, as the floor becomes dangerously slippery (both for your pet and other customers).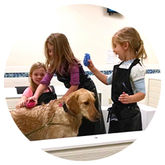 Self-Service Dog Wash
Our self-service dog wash permits you to stand in comfort at the dog washing station, and we provide all the things needed to give your dog a professional wash. The last bath is one hour prior to closing time. We are open today until 8:00 PM.

Dog Laundry
You take away a spotless dog, and our staff tend to the mess and laundry.
Come visit our pet supply store in Silverdale, WA specializing in quality food, treats, and supplies for cats and dogs.