Canine Training Center
(Silverdale Only) - We partner with two incredible local dog trainers!
Noel Ritter, owner of Guiding Hands Pet Obedience, is our Lead Trainer. Noel offers all levels of group classes on Mondays and Wednesdays. Private lessons are available with Noel every Monday through Friday.
Josette Stenbom, owner of Pup Pawsitive, offers Level 1, 2, 3, and 4 group classes daily from Monday through Saturday. Private lessons are available with Josette on Saturdays.
Group Class Offerings
Our group classes are organized into five training levels that provide you with a more customized experience. Each class session is six weeks in length, with an additional make-up class at the end. You don't have to miss a class to attend the make-up, so it's actually like getting seven classes for the price of six! Our Training Center is 1800 square foot in size, which allows every handler plenty of practice room. Additionally, each class is limited to a maximum of 8 students for a more personal training experience.
Due to our small class sizes, we do require payment at time of registration to guarantee your seat. Registration for new classes typically opens when the current session reaches Week 6. Class refunds are available with a minimum 24 hour request before the first class begins. Refunds provided after class begins is at the sole discretion of the trainer in charge.
Not sure which class is right for you? Wondering if that pulling and barking is aggression or just bad behavior? Our trainers offer 15-minute evaluations for $15 to help you identify issues and determine if group classes or private lessons are the best option. Free evaluations are limited to one per canine / handler combination.
Private Lessons ($35 per 30 minutes)

Mondays: 1:00 - 3:00 p.m.
Tuesdays: 12:00 - 4:00 p.m.
Wednesdays: 12:00 - 4:00 p.m.
Thursdays: 10:00 a.m. - 5:00 p.m.
Fridays: 1:00 - 3:00 p.m.
Saturdays: 3:00 - 4:30 p.m.
Appointments are required for all Private Lessons and Evaluations. Call us at (360) 633-3166 or stop by the store to register for a class, schedule an appointment, or ask us a question!
First Time Students:
Puppies must be at least 14 weeks of age.
Puppies should have all 3 series of initial vaccinations (we do not require proof of vaccines. This requirement is strictly for the safety of your pup.)
No aggressive behavior towards other animals or humans.
Training Introduction Letter
Training Release Form
We don't discriminate against breeds, but do enforce a zero tolerance policy on any type of aggressive behavior towards humans or animals. First time students must complete our Training Release Form. You can obtain the form during your first class or download it from the link above and bring it with you.

Puppy Training
Help your puppy to develop critical social and obedience skills, plus you can get all your important puppy questions answered!

House Breaking & Potty Training
Our professional trainers can train dogs to eliminate in litter trays, potty pads, or outdoors.

Behavior Modification
We use positive reinforcement to correct behavioral issues such as barking, digging, jumping up, biting, chewing and other dog and puppy problems.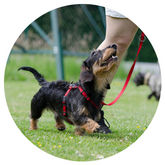 Beginner Training
Our obedience system is based on fun engagements that build focus. A great introductory class that teaches simple cues like sit, come and stay.
Come visit our pet supply store in Silverdale, WA specializing in quality food, treats, and supplies for cats and dogs.